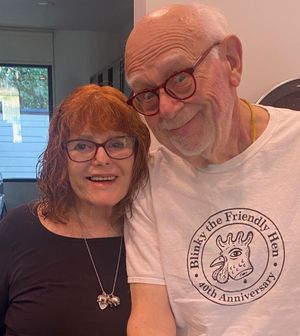 We said "I do" on this day exactly 60 years ago today. Spoiler alert: we are still happily married. What follows is the detailed version of that story. 
On this day a few years ago—okay, QUITE a few years ago—A beautiful red-haired college coed named Sarah Shideler made what could have been the worst mistake of her life: she exchanged vows, rings, assorted official papers and various bodily fluids with a nameless, blameless, shameless chap from Bloomington—a geeky, piano-playing occasional student whose job prospects consisted of working nights in smoky jazz bars and who was known to associate with individuals who were questionable at best, disreputable at worst. 
Sarah, a promising young mezzo-soprano, was a voice major at the Indiana University School of Music, having diverted to follow a musical course of study instead of her original intent of going to New York to become a fashion designer. This tragically illustrates one of the dangers of sending your daughter to music school: she could end up marrying a musician. 
She met her betrothed while she was singing in a pop choral ensemble called, in the quaint fashion of the day, the Belles of Indiana. The Belles had done a joint concert, excuse the expression, with the University's newly-formed jazz ensemble, which was sponsored. yet barely tolerated, by Indiana University. The pianist had caught her eye, even though she doesn't remember throwing it. Actually, she knew a bit about him because he was a high school classmate and friend of her cousin in Bloomington, Indiana. So, during a break in rehearsals, she went down to the bandstand introduce herself. But he was at that time surrounded by other coeds who clustered around him begging that he play his recorded hemi-demi-semi-hits, "Gnaw Bone" and "Possum Trot," from his unreleased album, "Brown County Suite." She was able to get his attention long enough to say hello and mention her cousin, but he didn't seem to be all that interested,  so she returned to the alto section to continue the rehearsal. 
And that's the end of the story. They never met again. 
Wrong. 
Despite his apparent lack of attention to her presence, he was in fact smitten, in his own twisted, passive-aggressive, excruciatingly shy manner. And he set out to find some way to ask her out. This was not easy for him, because whenever the necessary words were scheduled to escape his mouth they somehow became trapped en route from his brain to his larynx and turned into something like "hey, how ya doin'?" This did nothing to further his chances. 
So he came up with a fiendishly clever plan. He purchased a pair of tickets to a campus production of "Brigadoon" with every intention of inviting her to accompany him. But each time he picked up the telephone to make the move, he somehow found himself ordering a pizza instead. The performance day dawned and he realized that by now it was far too late for him to call, so he resigned himself to going to the show alone. 
Meanwhile, Sarah was picking up some extra credit in a new way: acting as an usher at the performance of "Brigadoon." One night, when her ushering duties were completed near the show's end, she noticed an empty aisle seat and sat down in it to watch the finale, ironically next to the man she would find herself sitting down with for decades to come. When the lights came up, they chatted and inevitably left together, and have remained so since then. 
A year or so later, on his 22nd birthday, they were married at an Episcopal church in Fort Wayne, Indiana. 
Some in her family were slightly dubious about the marriage, because his family itself was slightly dubious—his father was in the juke box business and the son was a musician. And his family was slightly dubious about the whole thing because there was no liquor served at the reception. 
His family's doubts were resolved when they went out somewhere for drinks after the reception. Her family's doubts were resolved fifteen years later when he invited them to see the Neil Diamond show at the Market Square Arena and had a reception room set up for them. Those of you looking to heal any family feuds, sibling schisms or parental pouting should consider the healing power of Diamondville. 
Despite his work as a musician, somehow the newlyweds were able to be together for their anniversary every year until September 29, 1992, when Concerts West chose to schedule a performance by their best-known talent in Sacramento, a town whose newspaper is named after an insect. 
On that occasion, their anniversary celebration was marred by the mysterious disappearance of the bed from their hotel room while their attention was diverted by a lengthy conversation with the band's lead vocalist, Mr. Diamond, who was implicated in the plot.. Tour security personnel told them: "We've seen these rings of bed thieves before. They'll have that bed repainted, the serial number stripped off, and up for sale in Mexico by tomorrow morning." 
But fortunately it was returned later that night as mysteriously as it had disappeared. As of tonight, the Hensleys have happily endured 3120 weeks, or 60 years, of marriage, and they recently announced "We intend to remain together for at least a while longer, until we really get it right." 
One thing is certain: Sarah is responsible for whatever he is today, which is a horrible burden for any woman to bear. 
Another thing is certain: you're unlikely ever to hear one of them say a nasty word about the other. 
Co-dependent? Let's put it this way—if he was to drown in the LA River tomorrow, her life would probably flash in front of his eyes.