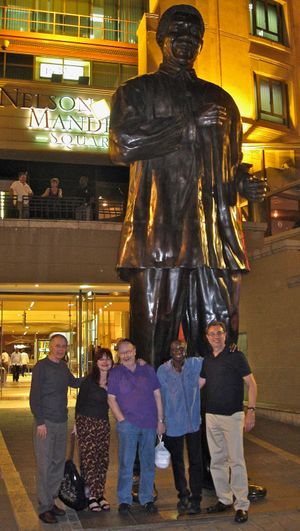 Sometimes I look online to see what's special about the day. I don't always do this, of course, and that's how I missed National Ice Cream Day recently. But I did check today, and learned that today is Mandela Day, celebrating the birthday of the South African leader Nelson Mandela
I never had the chance to meet Mr. Mandela, but I believe my boss attended a dinner for him some years ago in London.
Then, in 2011, we toured South Africa, a tour which inxluded shows in Johannesburg, Durban, Port Elizabeth and Cape Town, playing in stadiums built for the 2010 World Cup competition. The show in Port Elizabeth took place at the Nelson Mandela University Sports Stadium.
When we were in Johannesburg, our hotel adjoined Nelson Mandela Square where this photo was taken, after a dinner of some fine African cuisine with Reinie and Linda Press, Stanley Miller, King Errisson and Larry Klimas. They are shown being dwarfed by a larger-than-life statue of Mr. Mandela.
So here's a happy heavenly birthday wish to our good buddy Nelson, who stuck around long enough for a well-deserved vindication.