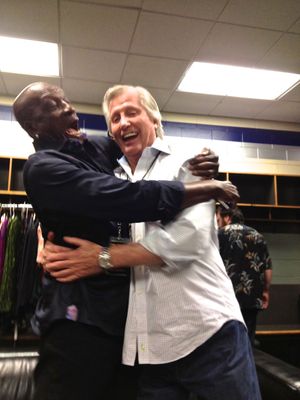 On Memorial Day, I'd like to take a moment to remember a friend of the Diamondville community who is less-known to those outside our circle. Tom Collins, who operated our tour concessions for many years, left us in 2019, after Mr. Diamond's retirement the previous year and the pandemic shutdown which was in progress, so we weren't able to mark his passing in a more public way. 
Tom was born in 1931 to Thomas and Martha Collins in the small Canadian mining town of Kirkland Lake, Ontario. Collins worked in a bakery and left school in 8th grade to work with his father in the local gold mines. Like most Canadian boys at the time, he learned to ice skate, play hockey and later turned to figure skating where he found his passion. Tommy's dreams reached beyond Kirkland Lake after he won the Northern Ontario Novice Men's Championship. In 1949 at the age 18, Collins joined Holiday On Ice as a chorus skater. In his second year with the tour he became the headliner and ultimately vice president and general manager. He also appeared as a skater on Broadway with Sonja Henie and later toured with her in South America. 
While skating with Holiday On Ice he met his wife Jane (Janie), a 1956 Miss America contestant competing as Miss Georgia and fellow worldwide ice skating performer. 
Tom Collins moved to the business side of Holiday On Ice in 1969 where he worked with tour owner and brother-in-law Morris Chalfen of Minneapolis. This was the beginning of what would later be known as Champions on Ice. Taking a break from the administrative side of the ice shows, Collins branched out into the music industry with Bill Graham promoting the careers of rock 'n roll singers of the day like Crosby, Stills, Nash and Young, Alice Cooper, David Bowie and Earth Wind & Fire. Within a few years, promoting evolved into a merchandising business supplying programs, T-shirts and memorabilia for touring entertainers. His first client: Neil Diamond, was soon followed by John Denver, Bob Dylan, the Moody Blues, Wayne Newton, Rick James, Joni Mitchell and Earth Wind & Fire. 
By 1975 under Collins' ownership, Champions On Ice, featured Olympic amateur and professional skaters who entertained audiences with their medal-winning solos rather than the vaudeville acts on skates of previous ice shows. Each year's tour program read like a Who's Who of ice skating. Tom put the skaters first. He did not want them to worry about anything other than their performances so the tour became known in the skating world as "the best of the best." 
By the early 90's, interest in figure skating began skyrocketing. By 2002, the tour included shows in 93 cities. Collins was not only known for his generosity to his skaters but also to the U.S. Figure Skating Association making him the largest single donor in figure skating history. He sold his show to AEG, the sports and entertainment giant, in 2006. He oversaw the tour until 2008 when he announced his retirement. 
The tour had become his extended family but his own family was an integral part of the tour. Sons Mike, Mark and Marty, along with Tom's brothers Butch and Harris were involved with tour operations. 
Collins was the only person to be inducted into all 3 Figure Skating Halls of Fame - U.S., Canadian and World. The U.S. Figure Skating headquarters in Colorado Springs was renamed the Tom Collins Building in recognition of his support of the sport in 1999. 
Tom shared his charisma with every person he met and treated everyone as if they were his close personal friend. Perhaps his greatest attribute was the love he had for his family. He would do anything for his family particularly his three sons. His love for life and playful spirit always came out when he was with his grandchildren. He played grape toss in the pool, hide and seek, took them to the movies and ice cream, attended each of their sporting events, school activities, and other performances. Holidays were particularly special, always over the top and filled with love. He never missed a chance to tell his family how much he loved them. 
Tom came up with some wonderful t-shirt designs for our tour, including the PBI Roving Reporter shirts which were awarded to those who came up with stories which appeared in our legendary newsletter. He showed up regularly on the tour and was a champion at hanging out late with the band. Sometimes his pals, particularly fellow skater Scott Hamilton would turn up with him. 
He regularly invited our group whenever his tour played the Forum and we were in town, and his receptions were famous for the food and fun. Carry on, Mr. TC!