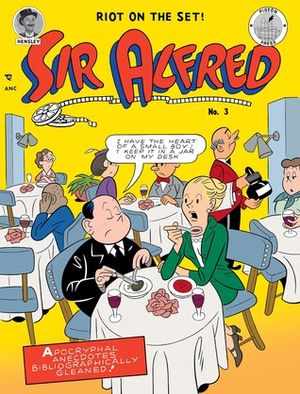 The other day I posted the news that our son Tim's new book is finally about to emerge after three years. That was delightful to hear, but now comes additional word the Fantagraphics is also reissuing Tim's previous book, Sir Alfred, which has been sold out and unavailable for a while. I'm posting their ad for it here, and it tells a bit more about Sir Alfred, a strange and delightful volume which I hope many of you discover. The reissue of Sir Alfred is scheduled to be concurrent with the release of Detention #2: "Maggie, a Girl of the Streets on October 26. Tim's earlier masterpiece, WALLY GROPIUS is only available on the collectible market at this time, and it's rather pricey there.
Here is the Fantagraphics release about Sir Alfred:
Behind the bonhomie, his "British touch," and his legendary films adored by the entire planet, Alfred Hitchcock turns out to have been in turn miserable, dangerous, mean, insensitive, obsessed, mad, and often screaming with laughter and/or dread. Master cartoonist Tim Hensley (Wally Gropius, Detention #2) paints a satiric and oblique portrait in this oversized one-shot (there is no Sir Alfred #1 or 2) that somehow informs the reader more about Hitchcock than most conventional history.
There is information about preordering both these items on Fantagraphics' site.