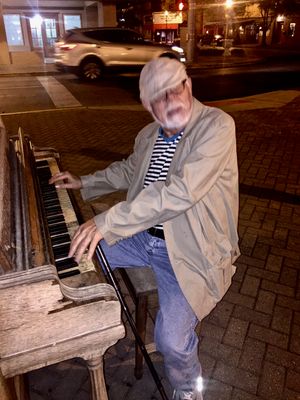 After landing in Louisville, and settling in at the downtown Louisville Marriott, the first thing on the agenda of some Touroids was getting out of Louisville. Getting out of the whole damned state of Kentucky, in fact, and heading across a big bridge into the next- door state of Indiana, and the charming little town of New Albany. The lure was a performance by a jazz musician born and raised and still living in New Albany. His name is Jamey Aebersold, and he is legendary in these parts, and beyond, as a great jazz performer and educator. An NEA Jazz Master, in fact, and those are not in abundance. 
Mr. Aebersold was playing with a snappy quartet in a refurbished old building, the River City Winery, in a refurbished old downtown. There was quite a crowd in the room when the first Uberload of Muzoids arrived, and even more so when a second car dumped its load of Hollywood Horns (without their horns, sadly). 
Upon arrival, each Touroid was issued a copy of the Jazz Handbook, published by Jamey Aebersold Jazz, chock full of practice suggestions, tips and tricks, and the secrets of improvisation. A quote: "Everyone has the ability to improvise from the youngest child to the senior citizen. You have to have desire and set aside time to work at it until moving your fingers becomes automatic and the distance between your mind and fingers grows smaller and smaller to where you think an idea and your fingers are already playing it. It's not magic. If it is, then magic equals hard work and perseverance. When asked, 'What is the greatest obstacle to enlightenment?' the Buddha replied, 'Laziness.' I agree!" 
Part of Jamey's successful business model is his jazz play along CD/music packages, which are used all over the world for training by amateurs and professionals alike, including some of our horn players, which was the reason they gave for feeling too intimidated by him to sit in.
A while later, Jamey walked into the audience, and gave each visiting Touroid a 25-cent piece. Yes, a quarter. Not, as you might think, so they could call someone who cared. Instead, he said, "Look at these closely." Those who did, and whose Codger Vision was functioning properly, could read the name Duke Ellington, which appeared on the back of the coin. 
As I said, the Hollywood Horns arrived disarmed, i.e. sans instruments, so there was no jamming for them, but both our keyboard dudes sat in for a tune each, and acquitted themselves without embarrassment on an unfamiliar instrument. "Acquitted" is the appropriate word, too, because the Muzoids were accompanied by my nephew, Mike Hensley, who had driven into New Albany from Madison, Indiana, where he is a judge holding the same seat once occupied by his father, the late "Honest" Joe Hensley, who was the talented one in my family, with 21 novels published as well as 100 short stories,. My grand total is, let's see...exactly, uh, none. Unless you count thirty years of this PBI crap. But that's another story, or perhaps dozens of them. 
Further deponent sayeth naught. 
After the jazz gig shut down (a little after nine), several Muzoids were driven back to the hotel by Judge Mike. On a street corner on the way to his car, they stopped to look at a music store. It was closed, obviously, or Richard Bennett would have been inside shopping, but outside was a weatherbeaten upright piano, and I stopped to play a few bars for the invisible crowd on the street, as shown in the top photo.
The evening was wrapped up nicely by Judge Mike's action-packed drive through the Louisville street grid's closings, impending demolition and random one-way direction changes. Eventually, they found the hotel, which is why you're able to read this. 
Footnote 2019: A few days after our lovely evening in New Albany, Jamey Aebersold emailed me that he had just been informed by the management of the River City Winery that his group's services would no longer be required. And that, ladies and gentlemen, is why the music business sucks, as does one no-longer-hip establishment in Southern Indiana where being a certified NEA Jazz Legend is insufficient credentials for a gig.
If you're up for a sneak peek at what transpired that evening, you can click here, if you want to. But only if you really want to.