I've taken a little hiatus from posting at a time when humor is too close to physical labor, but today I decided it's time for me to revisit the Diamondville Chronicles archives and share some with you. It's okay, I won't breathe on you.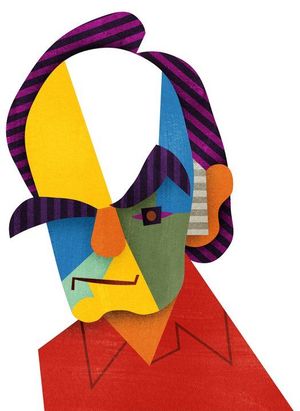 Over the last few days, I spent some of my free time acquiring some new Facebook friends, and I note that many of them turned out to be artists. Not recording artists, silly, I mean physical, graphic visual artists, the kind with implement above and surface below. That's not really what I do myself, although I certainly enjoy seeing it; and our son Tim actually operates in that world, albeit subtly. His books, Wally Gropius and Sir Alfred, and Ticket Stub are available from various sources, including some earlier work from Fantagraphics, in case you didn't know. But I digress.
One of the fine artists I now call a friend is a gent named David Cowles, whose style is right in my wheelhouse, so imagine my surprise when I found a portrait he had done of our vocalist. 
I dropped him a note, pointing out that I've seen drawings, sketches, and other kinds of artwork depicting our frontman over the 40 years I toured in Diamondville, but had never seen this one, or even one like it, and I find it very cool.
I asked if I could post it here, because I doubt many of you have seen this either, and I think it's kind of special. So enjoy it here. He's done lots of portraits of famous people, and if you visit his web site , you'll find lots to amuse and/or impress you.
I noted that Mr. Cowles lives in Rochester, New York, a town we played on our final tour three years ago. We had some painfully amusing adventures with our hotel there, which I shared with him, and I will share here on a future dip into the Chronicles.