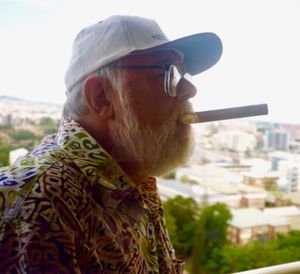 Cigarmania hit Diamondville big-time back at the end of the last century. Our vocalist either acquired or  revived a powerful craving for smoking stogies, and some others soon got the bug too. Even I, who had never even indulged in a cigarette, found myself smoking Culebras, those odd, spiral-shaped cigars, which were sold wound together in pairs. 
When word got around that Neil was really, really into cigars, the manager of each arena in each itinerary soon began to gift him with a big box of fancy Cubans as a gift welcoming him to whatever city we were in that night. 
And after the show ended, Neil would reliably get on our bus heading back to the hotel, walk down the aisle, and generously hand a cigar to any company member who showed the slightest sign of wanting one. Since these were not simple cheroots, but high-end, fabulous specimens, there were plenty of takers, including those like myself, who had never thought of themselves as cigar smokers. 
This behavior continued through a trip to Australia, where King Errisson famously walked into a banquet room full of stogie-suckers, and announced loudly: "It's a good thing Neil didn't take up (expletives deleted)." 
The fascination eventually waned, as such manias often do and things returned to normal. But a funny thing then happened: our singer's voice became better than ever before. 
We weren't quite sure whether his vocals were improved by his period of intense cigar-smoking, or by the subsequent ending of the period of intense cigar-smoking, but either way, it led us to some of our best shows ever, vocal-wise-speaking.