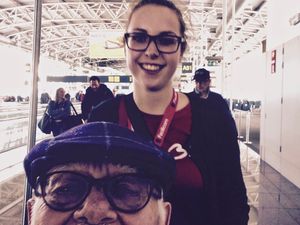 When we were on tour, there were three days of the week: show day, travel day, and day off. Oh, occasionally there were hyphenate days. A day off might double as a fluff 'n' fold day, when our hard-working security dudes would take our dirty laundry to be fluffed and folded and returned the next day. A couple of times, we had travel/show days, which were just as they sound. 
We very occasionally had multiple days off in a row, one such being in March of 2011, when we were in Melbourne, Australia. Our vocalist had to fly off to the states to be inducted into the Rock 'n' Roll Hall of Fame, leaving us alone to amuse ourselves in the quite fancy Langham Hotel on the Southbank Promenade of the Yarra River. A lot of people had a lot of fun during that stretch of days.
But in our retirement, which we're all still getting used to, every day is now a day off—unless we come up with something really important to do, such as a Zoom meeting, or a trip to the grocery. or walking the dogs.
This leaves a lot of time to read and write and remember, which is why more blog posts have been appearing on the Hensley Farms site, and why you'll just have to put up with it. 
Recently, I started posting about memorable people we'd encountered on the road, and wondering what had become of them. I've now begun hearing some responses to that, and I'll share some of them with you in the next few days.
But there's one person I haven't heard about, and I'm thankful for that. The young woman in the picture at top worked at the Brussels airpot when we passed through there on our way from Munich to Antwerp on June 20, 2015. By that time, the mobility issues I had from neuropathy dictated that I get help making it through large airports, and Brussels is a large airport. 
In the US, we were on a charter jet, and hardly saw the inside of an airport. But in Europe, we were just normal people, although a bit abnormal. Because I was so gimpy, I was usually issued a wheelchair upon arrival at the airport. Sometimes a crew member would be assigned push me around, and I found that the crew guys were actually anxious to take on that responsibility, because it enabled them to get through the security line quicker. 
In Brussels, the airport sent the young woman in my photograph, to get me from check in to the gate. She was delightful company, funny and helpful. 
I thought of her the following March, when 32 people were killed and many more injured in attacks at Brussels airport and Maelbeek metro station. I didn't know her name, but I searched press reports to see if any of the victims could have been her. Fortunately, I didn't see any likely matches, and that's what I'm thankful for. But if by any chance you know her, please tell her I asked after her and hope she was well and happy. It seemed to me that her location at the airport would have been a dangerous one.
Next time, I'll talk about some of people I have heard from since I first brought this up.