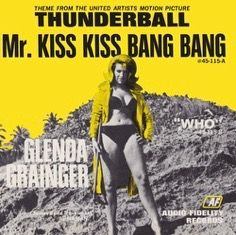 During our final tour, in April of 2017, we played Fort Lauderdale, Florida, never one of my favorites, but it's not my tour. And we weren't staying in Ft. La-di-da, we were up the road in Hollywood. Yes, there's a Hollywood everywhere, even in FLorida. 
\While scanning the local press for interesting day-off activities, I came across mention of a performer working at the Tropics Piano Bar & Restaurant in a place called Wilton Manors, and the name connected immediately. 
It was a singer named Glenda Grainger, who was "performing songs from the Great American Songbook." I recalled having backed Ms. Grainger in 1965 at the Embers supper club in Indianapolis, where I led the house band. Shows at the Embers invariably featured a singer and a comic. Over the course of 14 shows a week, I generally learned the comic's act and formed an opinion of the singer. 
The performers were usually somewhere mid-arc in their careers, headed up or headed down, but it was hard to peg Glenda. She sang pretty well, and had a record out that seemed to be getting some attention, doing talk shows and an occasional film, but wasn't really well-known, and she was opening for the comic, an odd duck named Poncie Ponce, who came to national attention in 1959 as the wise-cracking cab driver Kazuo Kim on the Warner Bros. detective series Hawaiian Eye, which ran for four years on ABC.
Kazuo Kim was known for his trademark straw hat and ubiquitous ukulele, as a occasional informant for the detectives, or as he idly plucked the uke while leaning against his cab waiting for a fare. The show's intro showed Kazuo Kim floating in the ocean on an inner tube, wearing the hat and plucking his uke. His comedy wasn't much, as I recall, but he grabbed the crowd with what we described as his "Sophie Tucker Hello God" medley, a closer which concluded with him playing "The Stars and Stripes Forever," as a small American flag popped out of his ukelele. 
Poncie was a bit grumpy by that point in his career, and I remember that he got into an argument with my bass player, which nearly escalated into a mini-fistfight, over an issue I can't remember. 
On the other hand, nobody had any argument with Glenda, a buxom, attractive English girl with decent pipes and a genial nature. 
The thing I remember most is that a week or so after her stint at the Embers ended, I got a lovely, handwritten note from Glenda, thanking me for accompanying her so beautifully, and ending with a request for me to help her reach some radio stations with her new record. 
Now, fifty years later, Poncie is deceased, but Glenda was still going strong at age 80, as I learned from the Florida Jewish Journal in an article which neatly filled in the many blanks in my knowledge of Glenda, of whom I knew little when she played the Embers: 
Grainger was born in England as Gitell Goldberg. As a child, she remembered many fearful nights worrying whether she and her family would be able to withstand the attacks on England from Nazi Germany. 
"Those years helped solidify the importance of family as well as the importance of being Jewish. It also gave me confidence to pursue my dreams of singing by age 18," said Grainger. 
"I changed my name to Glenda Grainger not because of any negative feelings for being Jewish, but because I wanted a marquee name to get hired in show business, as was the custom in those days." 
She had hit a record in England in the late 60's with one of the songs from the James Bond movie Thunderball (the one in which King Errisson starred), called "Mr. Kiss Kiss Bang Bang." She appeared in a classic French Film Noir called "Deux Hommes Dans Manhattan," and numerous films in Mexico, and was featured in the movie "Hook, Line and Sinker, where she played a lifeguard who gave Jerry Lewis CPR and mouth to mouth resuscitation, a nasty job but somebody had to do it. She eventually decided to reside in the United States and Florida in the 1960s, mainly as a singer in cabaret shows. The positive reviews to Grainger's performances in Las Vegas, New York and South Florida earned her appearances on the of Johnny Carson, Mike Douglas and Merv Griffin shows. 
In South Florida, Grainger sang at prestigious hotels, such as the Fontainebleau Hilton, Marco Polo and Sheraton Bal Harbour. 
"As much as I fondly remember my years acting, it is singing that keeps me going, wanting to perform as often as I can," said Grainger. 
And I also learned about Glenda's life away from the gig: 
Outside of show business, Grainger had a happy private life. She was married to show business promoter Lenny Miller from 1962 until he passed on in 1994. 
"Lenny and I had so much in common. We both loved show business, we both were Jewish and I loved him so much that I decided at one point to retire from singing so that I could help Lenny with his business. I have wonderful memories of my life with Lenny." 
In 2000, Grainger met Jerry Cohen, an Orthodox Jewish man, whom she married and moved to Harrisburg, PA to be with him until Cohen died in 2009. 
"Love is about caring, sharing and making sacrifices. There was little opportunity for me to sing in Harrisburg, but Jerry wanted to be there, so I went to live in Harrisburg because of love." 
"I have been lucky to have been in love twice in my life and would not want to change anything in my life even if I could," said Grainger. 
I really thought about going down to the Tropics Restaurant & Piano Bars, described as "a warm, friendly place where you can enjoy fine dining, cocktails and live entertainment. Patrons can relax in one of our three dining rooms or three full-service bars. Proudly serving South Florida's gay and lesbian community for over 20 years, we're known by regulars as a place where good friends convene and memories are made. Tourists remember us for quality dining, entertainment and a welcoming atmosphere unique to this establishment." 
It would have been nice to say hello after 50 years to Glenda, but it would have been a 30-45 minute trip each way, and it seemed more prudent to use the day off to remain inert, and save my convening and memory-making to my own gig. And I could tell PBI readers all about it almost as if I'd been there.