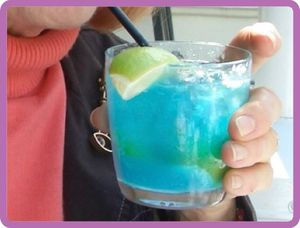 The sky at home is a beautiful blue, today. it inexplicably flashed me back to the sight of the drink pictured at left, from back in one of our early UK stops. 
Our hotel in London, in a silly piece of cross-promotion, was drawing attention to itself by creating drink specials inspired bu whatever performer was currently appearing at the local venue, which in this case happened to be the O2 Arena. 
During our stay, the bar had three "Concert Cocktails" on their menu. They specialties were: 
•Sweet Caroline "Good times never seemed so good…" 
Vodka, kiwi, apricot liqeur, lemon juice, gomme garnished with fresh kiwi 
•Love On The Rocks "Ain't no surprise, pour me a drink and I'll tell you some lies…" 
Sloe gin, lemon, almond syrup garnished with fresh raspberries 
•Only You "All I needed was the love you gave, all I needed for another day…" 
Sagatiba, creme de menthe, gomme, lime garnished with fresh mint 
Okay, we got the idea of the first two—big hits, lots of recognition. But we wondered why they choose the third one—a mere album cut that very few have ever heard? And one actually written by two mere keyboard players? 
This started me on a litte investigation. I knew that the lyric snippet included in the third item on the drinks menu was not from a Neil Diamond recording at all. A little more searching revealed that it had been a #1 hit in the UK for an a capella group called the Flying Pickets. And still more digging led me to the fact that it was actually a cover of an even more recent recording by an artist called Yazoo. But who was Yazoo? More searching, late into the night. 
"Only You" (with the Lowry's drinks menu lyrics) turned out to have been written by a gentleman named Vince Clarke, while he was with the group Depeche Mode. He offered it to the group as he left, almost a decade earlier. They declined the offer, so he recorded it as a duet with Alison Moyet, using the name…Yazoo. 
The Flying Pickets version then appeared on a Christmas album, and the song was thus thought by many to be a Christmas ditty. But it was also recorded by Enrique Iglesias, and his version—though it reached #1 on the Billboard Latin chart—did not include any discernible holiday ambiance—no sleigh bells, jingling or otherwise. Nor did the subsequent recording of it by a group with the carefully pronounced name "Boomtang." 
Should we have pretended to be irate at these people for using our title for their song? Hardly, since there is the small matter of the Platters song with the same name which far predates all these others, and ours. 
Which brings us to the question: Why did this song appear on the drinks menu for Neil Diamond? For the answer to that one, we decided to contact the hotel's bar at their inquiries email address. It's been twelve years, and we are still waiting for a reply. But I'm sure they've been busy. And, come to think of it, so were we.