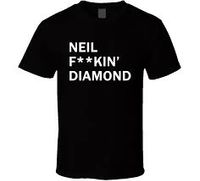 A few years ago, Tonight Show bandleader Questlove sparked a media firestorm after playing "Lyin' Ass Bitch" while Republican then-presidential candidate Michele Bachmann sauntered onstage on "Late Night with Jimmy Fallon"? I saw an account which said the Roots drummer was nearly fired over the incident. 
I had read about that incident and I had to mention it when I spoke to Questlove when we appeared on the Tonight Show October 17, 2014.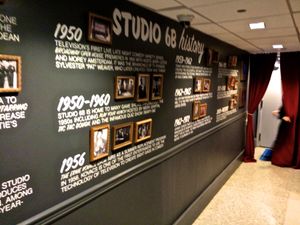 As a fan of the original Tonight Show, from the Steve Allen days, I enjoyed walking down the hallway to Studio 6B, where it all had happened. I also enjoyed that the house band, The Roots, all word the t-shirt as pictured at left. We felt so welcomed.
I wanted to discuss Questlove's incident, since back in the 1960s, when I was playing The Jim Gerard Show in Indianapolis (see Tom Sez, a few days ago), we had a guest from the Pentagon, with lots of decorations on his chest. Our band boldly played the military guy on with an anti-Vietnam song, one famously recorded by Country Joe and the Fish, called the "Feel Like I'm Fixin' to Die Rag." 
As I told Questlove, we were lucky to be doing our show long before the internet existed, before infinite replays, and with the minimal scrutiny that came with being a smaller-market show. I didn't hear anything more about it at first, except when the show was over, a producer who was taking notes for the show's log casually asked about the name of the piece of music we had played. I told him it was "Muskrat Ramble," since Country Joe's song is just an alternate lyric for that older tune, and we had done an instrumental version, so I was technically accurate, and there was no fallout from it. Questlove seemed to enjoy hearing the story, and I enjoyed his reaction to the whole thing.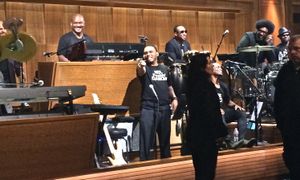 Later in that year's tour, we played Indianapolis, and I made sure to call up the bandleader on the Gerard Show, the late George Nicoloff, who was at that time nearly 90. He always enjoyed keeping track of the other talk shows, so I delightedly shared an account of my Questlove chat with him. George immediately replied, "You forgot the best part." 
Wha? 
George said, "Later on that same show, they had a fashion show of pregnancy outfits, and the music we played to accompany it was 'Strangers in the Night.' We did get in a little trouble for that." 
It was so cool to have my memory updated by someone even older than me.