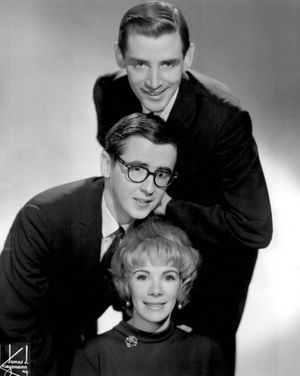 I'm spending a lot of time right now (and time is what we have plenty of, right?) constructing the tale of my time spent with the people at Mattel. The toy people. That's for my other blog, Tom Sez, the tales that don't belong in the Diamondville Chronicles. It's a pretty good one, but it's complicated. So is the stuff from the tour, but here's one that's short and, well, a tiny bit sweet.
On the flight home from our 2011 tour of Europe and South Africa—on the last lap, from London to Los Angeles, one of our fellow passengers turned out to be the late Joan Rivers, I'm going to assume you've heard of her. I certainly knew of her. I had actually even met her many years earlier, at a time when she was a member of a group called Jim, Jake and Joan (pictured). They had played the Embers in Indianapolis when I had the house band there. We didn't play for their show, and when I wasn't needed in the showroom, I was assigned to do whatever I could do in the lounge. I mostly played cocktail piano, but sometimes did an occasional Mose Allison tune, just to make the customers drink up. It was a vain attempt to be entertaining.
When I met Joan, along with Jim and Jake, she struck me as actually, forgive me for saying this, quite a cute young thing—in a 1960s kind of way. We chatted, she was funny, I liked her, end of story. Until that day in 2011.
None of us actually knew she was on our flight, not until we arrived. How is that possible? Well, we were in business class, so I have to assume she must have been in funny-business class, in a funnier section of the plane.
When we landed at LAX, we all dutifully reported to immigration. While I was distracted by being required to go through my formalities, I happened to glance over at an adjoining interview table, where an immigration agent was busy interviewing Joan. At that exact moment, he was, in fact, holding up her documents in one hand, while appearing to compare her then-current face with the picture in her passport. My mind raced as I began inventing punch lines and captions for a potential photo of that scene. I probably thought of a good twenty minutes of material for her act while I sat there.
But I never finished creating my dozens of face lift jokes. After all, we were home. No need for further material.
How could I know that, nine years later, the memory would provide a few paragraphs of material for me today? Thank you very much, Ms. Rivers, we'll take it from here. Thank you for your service.