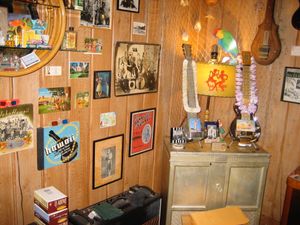 Yes, I'll confess. I was one of those who piled insults on Nashville upon arriving here for the first time in 2001. As the plane was landing, various Touroids cupped their hands over their mouths to simulate an airport speaker system and intoned messages such as: 
•Welcome to Nashville. Set your watches back thirty years. 
•Welcome to Nashville. If a chord has more than one letter and one number, it is wrong. 
•Welcome to Nashville. Forget half of what you know. 
•Welcome to Nashville. Bassists will please confine themselves to one and three. 
•Welcome to Nashville. All raised ninths must be lowered before entering the city. 
•Welcome to Nashville. Use a capo or go to jail. 
I could go on and on. Actually, I already have. 
I used to say that everyone I knew in the studios in the 1970s had either died or moved to Nashville, and I at least knew that the ones who'd died had gone on to a better place. I think you're getting the picture. 
My first impression of the city, arriving from the airport that night in 2001, did little to alter my preconceived notions. A rainy, chilly night. A meal consisting mainly of meat. Walking through a beaten-up downtown, listening to some mediocre blues bands, including one player who rushed so badly that by the time he reached the end of his set, he had time for an extra tune. 
But then something odd happened. The sun came up the next morning! 
And it wasn't raining and it wasn't cold and I went for a walk and found myself sitting in a Baja Fresh restaurant, just as if I was at Coldwater and Ventura Boulevards (two locations which by the way, are now gone), eating quesadilla and ensalada just as God intended it. 
And then something else odd happened. A line formed at the counter and the customers in it had the unmistakable appearance of a recording session lunch break: a group of men of indeterminate age, all with distinctive hairstyles. One slightly older dude, who was obviously a producer. One slightly younger dude, who was obviously the artist. 
And then something else odd happened. One of the distinctive hairstyles turned out to be residing atop the head of our backup drummer emeritus (summa cum sic Tutt) Paul Leim. 
It turned out that Mr. Leim was the drummer and W4mëister for an album-in-progress by a newcomer named Brian Bennett (no relation to Richard). I also met the other Muzoids—I'm embarrassed to say that I couldn't etch all the names into battery-backed memory, although I'm sure they were all well-known, at least in the bidness. 
The producer, though, I had met before. His name was Bob Johnston, and he had been making great records for a long time (pedigree upon Google search). I recalled that in the early 1970s I was called to do a session for him. I arrived at Western Recorders, ready to impress the big-name producer and thus open the door for much future work. 
But what I was asked to do was to hold down one note on a Hammond B-3 while he tried miking the resulting sound from various Places in the room. It was a four-hour session on a Saturday afternoon (i.e. big buck$), but I experienced the depressing realization that my part could have been handled just as well by a toddler holding a Popsicle stick. 
When I spoke to Bob Johnston, I related that story to him and Bob immediately said "Well come on over, you can play on the tune we're cutting this afternoon." Sure, great! I was ready to rumble until I remembered the small matter of a 4:35 pm bus call, followed by a sound check, followed by a show for actual paying customers, and knew I had no choice but to respectfully decline. 
But I have to admit it was thrilling to have my first chance in years to turn down a record date. 
I did, however, accept the invitation to come down to the studio and hang out and hear a take. The players were, as you might expect, great. But for me, following along on the Nashville-style numbered chord sheets was an adventure. In Nashville, even a simple chart looks kind of like a London phone number. But more complex tunes, including this one, a song called "That's What Love Can Do," were not at all simple. Besides, every time I saw a "1," meaning a tonic chord, it looked to me like a bar line. I found myself happy to be a neutral observer and not a participant. 
I noticed a sheet of paper posted on the wall of the control room containing a quote from Bob Johnston which I shared with our band, and which I'll share with you now: "Critics are an eternal mediocrity, living at the expense of genius, either to belittle it or destroy it; a race of insects happily eating away at the foliage of art." The quote was from Bob Johnston, and the attribution is a story in itself. 
Mr. Leim, knowing that I had to be back at the hotel, told me to take his car—his wife was picking him up for tonight's concert and he could reclaim his car at the hotel. 
"Treat it as if it was your own," Paul told me. So I went downtown and sold it. 
No, I didn't sell it. But before I left, Bob Johnston asked for my phone number and I obliged. It had been a long time since I'd given my phone number to a record producer, so I almost slipped up and told him "I'm with Arlyn's." 
Bob Johnston passed away in 2015, joining the list of producers who will never call me again. 
So there you have it. I arrived in Nashville slinging insults and opprobrium, and the damn town gets even by nice-ing me into submission.