I meant to post this yesterday as an observation of Dyngus Day, but I'm a day late. So sue me. Actually, I haven't posted anything here lately, but there's a reason for that, and it's not a sad one, I'm happy to say. But more about that on a subsequent day.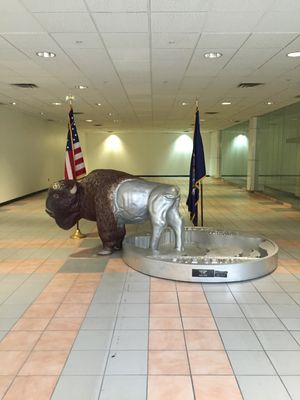 I want to take a moment to reflect on Dyngus Day, which I'm sure you all know is the day after Easter. Here's what I wrote about it in the PBI in March of 2015, after we had played a show in Buffalo:
If you bothered to pick up and peruse the mini-brochure at the Hyatt Regency's concierge desk, you know all about Dyngus Day, and are excused from reading the rest of this story. If not, you are probably unaware that we are leaving Buffalo not long before the biggest event of the year for Buffalopians with a Polish background. 
Dyngus Day is the day after Easter, and Polish-Americans use it as an excuse to drink, go nuts, and par-tay ALL day long. But even before that, on Easter Sunday itself, the whoopee begins at Salvatore's (see separate story). At 7:30 pm is "The ORIGINAL 'Blessing of the Instruments' Ceremony." From that point on, it will be possible to polka till you puke at various locations, including the Millenium Hotel, where they will feature special guests, including the Dyna-Tones' Larry Trojak and "Scrubby" Sewerynial, as well as the Chopin Singing Society. 
Unfortunately, on that evening, our instruments will be on their way to Pittsburgh, so any blessing of them will have to be done en route—although we're pretty sure we can find a polka in Pittsburgh. We do have access to an accordion player or two. 
Those polski folks have their own kind of Easter, even their own Palm Sunday. Californians use palms for everything (including laxatives—with fronds like that, who needs enemas?), but the Polish tradition, it says here is to bless pussywillows. The PBI doesn't know much about pussywillows, so we asked King Errisson for some help, and he replied, "Willows?" 
The Polish Easter greeting is "Wesolych swiat Wielkanocnych," and we could all say that, although it would be easier if we could buy a vowel or two. The great thing about Dyngus Day is that it combines Christian and pagan rituals in a rather harmless way, using rites of cleansing, purification, courtship and fertility, so what could go wrong? (It is also associating with driving out the "money-changers," so we may wish to participate by ceremonially kicking our accountant out of Hosty for a few minutes.) 
The Dyngus Day fun includes lots of drinking, water-splashing, Chodzenie, or Easter trick-or-treating; and a certain amount of śmigus, which involves striking people (usually girls) with willow branches. That does sound like fun, possibly, and it certainly answers a lot of questions while raising others, doesn't it? Something tells us that our women may balk at lining up for a bit of celebratory śmigus. 
Here is a typical Dyngus song: 
Your duck has told me 
That you've baked a cake 
Your hen has told me 
She's laid you a basket and a half of eggs 
Your sow has told me that you've killed her son 
If not her son then her little daughter 
Give me something if only a bit of her fat 
Who will not be generous today 
Let him not count on heaven.