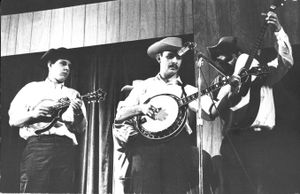 Here is a snapshot from April,1962. If your vision is keen, you can spot me hidden behind banjo player Neil Rosenberg with my bass. It's a performance by our group, the Pigeon Hill Boys at the Ann Arbor Folk Music Festival in Michigan. 
Franklin Miller is playing mandolin and Chuck Crawford is on guitar. They were new to me, and subbing for the regulars. We were part of a Saturday night hootenanny, when all of the festival performers did sets. We were preceded by a fellow from New hatYork who called himself "Bob Dillon." He changed the spelling later. He began his act with a harmonica clipped to his guitar. When he blew into it, the harmonica dislodged from its holder and skittered across the stage, causing much amusement for the audience, and for us. It turned out that was part of his act. Who knew that Bob Dylan, as he later became known, did such schtick? Tomfoolery was more my department, as is traditional in bluegrass bands. 
I wan't much of a player, but I fulfilled the first requirement for playing bass in a bluegrass band: I owned a bass. I couldn't do the slapping and spinning required of big-time bassists, but I could find my way through a three-chord song in G, D or E. 
My main memory from that day is that during a lengthy break, I walked down the street in Ann Arbor and found a jazz club where an afternoon jam session was going on. I walked in the door and checked out the scene. The players were good, but not intimidatingly so. After a while, I went over to the bandstand, and uncharacteristically asked if I could sit in. 
I was dressed in my full bluegrass mufti, including cowboy hat, checked shirt and jeans, and I enjoyed the look of horror on the musicians' faces at the thought of a hillbilly sharing their bandstand, but they were good sports and didn't kick me out. There was palpable relief when it turned out that I was somewhat credible in their genre. Many years later, Charlie Haden made it perfectly okay for jazz players to dabble in bluegrass. 
The real star of the Pigeon Hill Boys was Neil Rosenberg. He played banjo the way you expect to hear it in a big-time outfit, and he wrote the book on Bluegrass. Literally. His book Bluegrass: A History (as well as his others on Bill Monroe and other aspects of the music) are required reading in ethnomusicology departments everywhere. You can read more about this and other bluegrass moments in his book Bluegrass Generation.