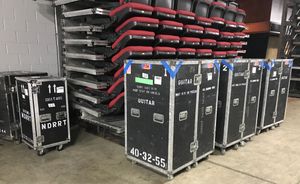 Ater the holiday I'm remembering a lot of Fourths of July from my checkered past. Here are a few. May the Fourths Be Witchoo 
1957 or so—I played at the Bloomington (Indiana) Country Club. It was an unpleasant evening. climaxed by a very drunk woman who persistently threw lit firecrackers under the already-out-of-tune piano I was trying to play. I made a silent voe never again to play at that country club—and, true to my word, I never set foot in the joint again. 
1976 — We played in Las Vegas for the grand opening of the Aladdin Theater for the Performing Arts. We went for the weekend and took our kids along. Our friend Missy came along to baby-sit. While we were there, Richard and Tina were married, the ceremony taking place in Neil's suite. We watched fireworks from the roof of the Jockey Club. When it was time to go home, Missy wouldn't let us pay her, because she had won so much money playing poker. "After playing in Gardena," she said, "These Vegas games are easy."  
1986 — Liberty Weekend. It was the centennial of the Statue of Liberty, and the reopening of it after restoration. It was an all-star televised event. All the celebrities' limos were parked in Red Hook and after the show, the stars were to be taken by ferry across to Red Hook. The ferry was delayed, resulting in a scrum of impatient stars, each off whom was the most important one there, battling to be first on the ferry. I'll tell the whole story sometime. 
1996 — We had a show on the 3rd, in South Bend, Indiana, and then rode our trolley to Chicago, where we spent the 4th at the Sutton Place Hotel. That stay was distinguished by our Patriot Game: throwing balsa wood airplanes off the roof of the hotel, followed by our security personnel taking an elevator to street lever and rushing out on to Rush Street to pick up the aircraft and send them back up the elevator to Hosty for another round. On the 6th we flew to St. Louis, where we did our show.  
2009—We appeared with the Boston Pops on the Esplanade. It was televised, with Craig Ferguson as the host. His trailer dressing room was next our trailer dressing room, and we sat around for a while swapping tales about Glasgow—his former home, an a site of one of our shows, where the audience was seriously drunk.  
There are more, but those are the ones that came to mind on this Fourth of July. Still not planning to return to the Bloomington Country Club unless they really make it worth my while.