Independence Day is fully-stocked with memories from our touring years. It was a day on which we frequently traveled to interesting venues to play our tunes for assembled multitudes. For example..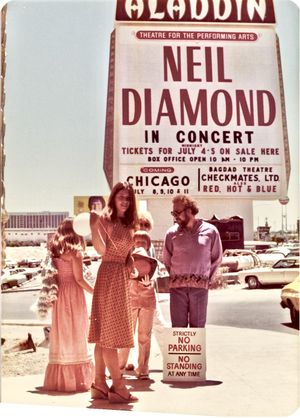 1976 — We performed for the grand opening of the Aladdin Theater for the Performing Arts in Las Vegas. A shiny new space without any Rat Pack odor, and all the ushers were dressed in shiny silver foil outfits, which made them look a bit like, as our vocalist pointed out, baked potatoes.
We made it a family time, and took our kids for the weekend, with our dear friend, and occasional roommate, Missy came, who came along to baby-sit. While we were there, Richard and Tina were married, the ceremony taking place in Neil's suite. As Tina recalled, the bride came down a spiral staircase as I played a mash-up of The Star Spangled Banner and Waltzing Matilda. Neil gave away the bride and the best man was Dennis St. John.
In the evening we all watched fireworks from the roof of the Jockey Club. It was memorable, which I why I remember it.
When it was time to head for home, Missy refused to let us pay her for her help, because she had won so much money playing poker. "After playing in Gardena," she told us, "These Vegas games are easy." I should have realized then that Missy was not just an average poker player. I learned that some years later when she joined us in a poker game at our hotel on Long Island and cleaned out everyone at the table. As a result, I was banned from bringing any more guests to the poker table.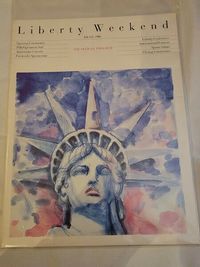 1986 — Liberty Weekend, they called it, because it was the centennial of the Statue of Liberty, and a celebration of its reopening after massive restoration. We traveled in limousines to Red Hook, where we boarded chartered ferry boats to Governor's Island, where we were part of a massive, televised, celebrity-laden show, joined by endless stars and a large orchestra and chorus. Neil invited Sarah to be part of the chorus, which probably caused some nervousness among the New York studio singers in the chorus, until they found that Sarah could read music and sing simultaneously, when everyone relaxed. The next day, we gathered on a yacht in the East River and enjoyed a post-work party, interrupted only when our ship wandered into the path of the presidential yacht, and were shooed away by the Secret Service.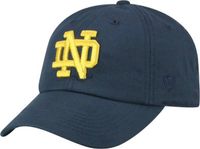 1996 — We had a show on the 3rd, in South Bend, Indiana, where Neil went shopping at the Notre Dame University gift shop, where he found a lot of items with his initials on them. Next we rode our trolley to Chicago, where we spent the 4th at the Sutton Place Hotel. That stay was distingished by what we called our Patriot Game: throwing balsa wood airplanes off the roof of the hotel, followed by our security personnel taking an elevator to street level to rush out onto Rush Street to gather up the aircraft and send them back up the elevator to Hosty for another round. On the 6th we flew to St. Louis, where we did our show, and ate Reinie's favorite pizza.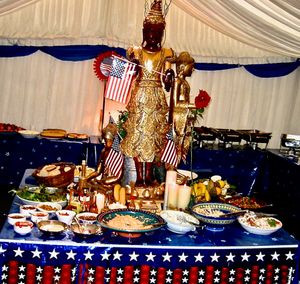 2002 — We were playing in Dublin, and our wonderful caterers set out an American-style spread to make us feel at home. Look at the picture and imagine it surrounded by Guinness.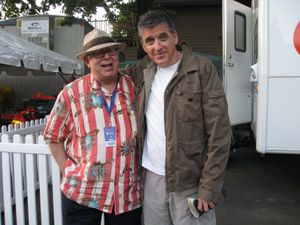 2009—We appeared with the Boston Pops on the Esplanade. It was televised, with Craig Ferguson as the host. His trailer dressing room was next our trailer dressing room, and we sat around for a while swapping tales about Glasgow—his former home, an a site of one of our shows, where the audience was seriously drunk. Craig explained that to us, saying "That's what we do there. I didn't realize I was an alcoholic until I left Glasgow."
There are more such stories, of course, but there won't be any more since we're now retired from the road. Today, I put together a home July 4 playlist with a lot of marches, as one might expect. But the marches got tiresome after a while, and I made the day much more fun by adding in a lot of musical selections from Philadelphia Mummers parades . Yes, that's a New Year's thing, but it worked for us. Nothing beats the sound of Root Rooter-style saxophones, accordions and banjos.