Today is National Disk Jockey Day, for no good reason. Many of my friends are revealing their shameful pasts behind the microphone, and I am no exception. 
When I was entering high school, the Bloomington radio station WTTS was the hippest place in town. An announcer named Gene Sherman did a nightly show from 10 pm to 1 am. It was called "Sherman's March," and he played mostly jazz, a fair amount of big band, especially Woody Herman. I eventually was among a small group that went to the station to meet Mr. Sherman. I learned that Gene had started as a salesman for Columbia Records in Indianapolis and Cincinnati, later worked as an advance man for Woody, and was on a first-name basis with seemingly every major jazz figure of the era. He was a good guy, and he was welcoming to our group of young jazz enthusiasts, and many others discovered jazz through his show. 
He didn't care if a bunch of teen-agers came down to the station and hung around while he did his show. He would sometimes speak to them on air, which was regarded as an honor. I wouldn't call him a mentor, but many of us wanted to be him.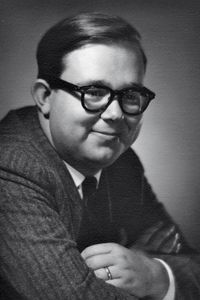 Eventually, after an introductory gig at a WBIW, 20 miles away in Bedford (my staff photo is shown here), I inherited Gene's time slot, changed the name of the 10 to 1 times slot to "Night Flight," and spent a few years at WTTS and WTTV-FM. A recent online search revealed that the FM station there now us has the WTTS call letters, while the AM station is now WGTC, which is said be an acronym for "good time country," which is kind of sad. But WTTS-FM now has a very powerful signal, which it most certainly did not, at least when I worked there, so there is that. 
On one Night Flight shift, I was playing an album I had brought from home. We did that—although there was a vast, or at least half-vast library at the station, there was no objection to deejays bringing in their own stuff to play. So I brought in an album called "Blues and Haikus"— poetry and jazz featuring saxophonist Al Cohn and the writer Jack Kerouac. I played several cuts, since it fit exactly into my no-format format. 
A few days later, the station received a postcard addressed to me from a member of the English Department faculty at Indiana University. The guy who sent it was a friend of Jack Kerouac, and said that Jack had told him that he happened to be driving through the fields in southern Indiana the night I played his album, of which only a few hundred copies existed. He said he was thunderstruck to hear it played on his car radio in the Hoosier wilderness, and just wanted to let me know. 
That was probably the peak moment in my radio career. Except maybe this: 
A few years later, I was still working at WTTS-WTTV-FM, when I was offered a jazz gig, a road gig with the Buddy Montgomery group. Buddy, the vibist brother of Wes and Monk Montgomery, the royal family of Indianapolis jazz, was offering a gig that would start at a jazz club someplace in Ohio, and I thoiught about it for a while before saying no. We had a child by then, so it must have been around 1963, and I thought my pittance of a salary was a better option than the vagaries of a jazz career. 
Later on, I heard that their gig vanished when the club folded, leaving the group stranded in Ohio for a bit, and I remember feeling I might possibly have made the correct decision. 
I was still a radio and television major at IU, but I had already realized that the only guy at a radio station who made any real money was the guy who went out to sell time to advertisers. 
WTTS was owned by Sarkes Tarzian Inc. Tarzian was a very rich, successful immigrant who had a huge business selling selenium rectifiers and other gadgets used in broadcasting, and eventually branched out into broadcasting itself. Each year his employees, including his radio station's staff, attended a holiday dinner at which they received a souvenir plate honoring a state. The idea was if you worked their 50 years, you would have a complete set. I did not plan to have a full set. 
After Gene Sherman moved on, he went to work for the Crayola company as a crayon salesman. I lost track of him, and suspect that he never realized what an influence he had been for many of us juvenile delinquents. 
After receiving a degree in Radio and Television, I was offered a job as news director for a small station in Ohio, which I turned down. I still didn't know what I wanted to do to make a living, but I was adding to an increasing list of things that I did not care to do. That list has continued growing for a long time.