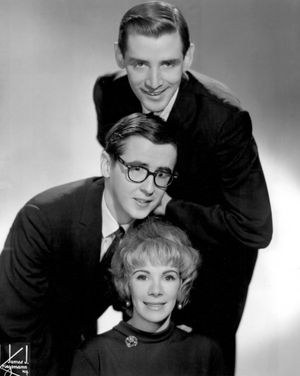 I've mentioned the era when I had the house trio at the Embers nightclub in Indianapolis. The traditional booking there was a singer and a comic. When my services weren't required—when the singer brought in backing musicians, for example, I was sent off to play cocktail piano in the lounge. That wasn't my forte, although I occasionally sang a Mose Allison tune in a vain attempt to be entertaining. Sometimes the main room act would drop by and hang out in the lounge after their set. One such act was a folkie comedy group called Jim, Jake and Joan. They were good, and it seemed to me that Jake Holmes was destined to be a star. The girl in the group was good too. We sat and visited in the bar a few times, and I enjoyed knowing her. Her name was Joan Rivers, and she was young, cute and funny. She retained at least one of those three qualities the rest of her life. 
I didn't encounter her again until 50 years later. I was on a plane, coming home from a European tour with Neil Diamond. I heard she was on the plane, but I didn't see her during the flight. Our band was in business class, so I have to assume she was in show business class. 
We landed at JFK and shuffled through our formalities, with everything moving along nicely. I noticed Joan was up ahead of me, and as I moved forward, I could tell I was catching up with her, and eventually passing her. I wondered why I was getting through the airport more quickly than Joan Rivers, and I eventually found out why: she was having a problem at immigration—her face apparently didn't sufficiently match her passport picture.   I felt sorry for her, but knew she would eventually make 20 minutes of material out of that situation. 
I'm mentioning this because there's I read there's a biopic tv series about Joan in the works, with the requisite controversy. Some folks are upset that the part of Joan is to be played by an actress who is Catholic. Sarah Silverman refers to this as the "Jewface" policy, the practice of casting non-Jews as Jewish women. I'm not going to wade in on this topic—after all, my boss was Jewish enough to star in "The Jazz  Singer," yet we recorded two Christmas albums with him. I don't think I have a vote on this, so I'll just watch the series and hope that the star is suitably young, cute and funny, at least for a while.