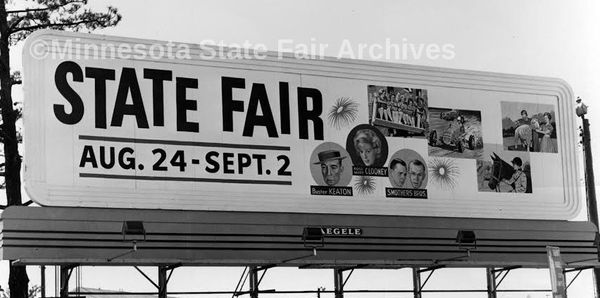 In the summer of 1963 I hit the road for the first time, playing state fairs around the midwest as the pianist with the Warran Covington Orchestra. Warren had bought the Tommy name and library, and the shows, which were the grandstand entertainment at various state fairs, featured Buster Keaton, Rosemary Clooney, and the Smothers Brothers (who are visible on the billboard shown), along with vaudeville acts such as the Flying Zacchini Family and Dockey's dogs. The latter was a troupe of basketball-playing boxer dogs, who lived in a trailer with Dockey himself. It was considered wise to stay away from that trailer, because the odor was intense. We played for the singers, lively tunes for the dogs, and played the Smothers on and off, and background music while Buster did some pantomime slapstick falls and stuff outdoors in the night air. He seemed like the oldest person in the world to me, although he must have been around 64 at the time.
One night when we were in, I think, Kansas we had a night off and a group of us went to the movies. A theatre happened to be showing one of those compilations of silent films, "The Golden Age of Comedy" or something similar. I managed to sit a few seats to the right of Buster intentionally, because I was wanted to peek and try to see whether he laughed at his own primo material—I knew it would be included in the package.
Sure enough, one of Buster's classic scenes came on the screen (sorry I can't remember which one), and I looked to my left, and I observed Buster Keaton--okay, not laughing, but certainly smiling broadly, as if to say, "Yeah we didn't screw that bit up too badly."
I wish I'd had the gumption to chat with Buster at length, but he seemed too intimidating for that, and the opportunity was missed. I certainly will not make that mistake if he comes around again.