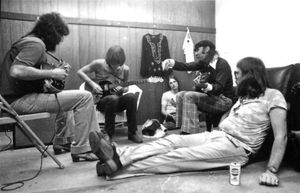 In the early 70s, I did a little touring with Seals and Crofts, who were hot at the time. We were working their hits—I  remember Summer Breeze and We May Never Pass This Way Again. I also remember that my favorite part of the show was the bluegrass jam tune they did every night at the end of the show. I wasn't needed to play on that one, But sometimes did anyway—just a leftover impulse from my days with the Pigeon Hill Boys, although I was playing bass back then. 
After the show, Jimmy and Dash did a little meet 'n' greet with members of the audience who wanted to hear about their Baha'i faith. I stayed for it once, and felt it was nice, unlike the Scientology cult, which I wouldn't have tolerated so politely. And Seals and Crofts themselves were good guys. Here's a photo of a dressing room jam somewhere on the road, somewhere in time, somewhere in the itinerary, somewhere in space. 
RIP Jimmy, I enjoyed my brief time in your orbit.