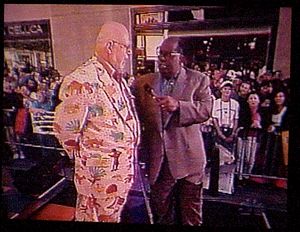 Over the years, I wore a lot of bizarre outfits on stage. I kind of became known for them, to the extent that I was known. One reason for this was Neil's costume designer, a gentleman named Bill Whitten, who did all our stage clothes for at least 30 years. A magazine called The Costume Rag recently published an article about Bill's career, and it's great to see them making a fuss over Bill, who worked in relative obscurity all his life, even as he designed garments that were spectacularly influential, for savvy clients including Michael Jackson, Bob Dylan, and our vocalist, who was one of his first big-time supporters. You can read all about his work here. 
Bill liked clothes that were wild and wacky for me, as he liked to say, and he felt that my personality was suited to them, since I tended to dress the same way in real life. 
I remember when we played Palais des Sportes in Paris for the first time, in 1977, there was an after-party for us at Maxim's, a big meet-and-greet with lots of people of note in attendance. Our then-publicist, the late Paul Wasserman, walked up to me just as someone was complimenting me on my outfit, and in his cynical, grumpy way, said of me: "He just does that to get attention." Another guest who happened to be standing nearby, a writer for Women's Wear Daily, immediately said to us "THAT is the purpose of ALL fashion." Take that, Mr. Wasserman. 
Bill came up with a lot of fun ways for me to look silly. One of my favorites was a suit I wore when we did the Today show in 2002. We were playing outdoors, in the Rockefeller Center plaza. During the show, the NBC weatherman, Al Roker, came out to do his thing. This was in his chubby days. and mine as well. When he saw my suit, he insisted that I stand next to while he did the weather. Now, I'm not a piano, but I play one on TV. Frequently, let me add. I'm also used to what happens most of the time: I'm put in a rear corner of the set, and kept out of the picture during most of our spot. I'm used to that, I'm cool with it.  
What I learned on that April day in 2002 is that if you stand next to the Today Show's weather report, EVERYBODY sees you. After the show, I had calls from relatives and friends that I had never even met. It was quite memorable for me. But apparently not for Al. When we next time we played the Today Show, a few years later, I mentioned the incident to Al. He didn't remember it. 
When Bill Whitten died in 2006, Sarah and I were at his memorial at Forest Lawn, and heard actress Cicely Tyson say, "Whenever I had an awards show to do, I would call Bill and he would do something perfect." 
I have a closet full of garments Bill designed for me. They were perfect, and I treasure them.