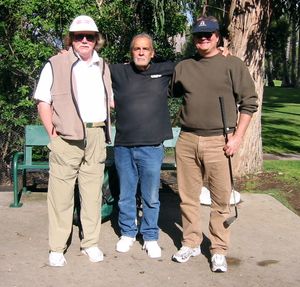 I used to play golf. I played golf on the road, I played golf at home, I read about golf, I watched golf on television. One of those dumb things we old guys do. Until we can't.
I don't do any of those things now, but I want to write something about golf now, so indulge me. 
At the left is a picture of a golf game at a par 3 course on Whitsett in Studio City, a lovely spot which is now endangered by the property demands of Harvard/Westlake, a voracious educational business which is trying to engulf and devour all the property around it. Our part of town always displays the latest crop of lawn signs disputing yet another heinous plot hatched by Mr. Harvard and Mr. Wetlake. But I digress, already.
In the picture, I'm playing with some great friends, from left: the late Mentor Williams, the lively Simon Stokes, and the late Jack Conrad. Mentor produced a lot of great records in Nashville, and wrote big-time songs, including the hit song "Drift Away." Oh, and his brother Paul has written some songs, too. 
I hired Jack to play bass in the first band I put together for Helen Reddy—he had been playing with the Doors previously, and he later backed the Captain and Tenille. The hit songs he wrote included "Isn't it Time," "Family of Man," and "If Looks Could Kill." Simon Stokes, in the middle,  is legendary. The song of his that I must mention is "A Boa Constrictor Ate my Wife Last Night." Obviously, an all-star foursome, except for moi. But this post isn't about that day. 
It's about a similar day, in 2008, at that same golf course. I was playing with Larry Brown, the great drummer/composer/producer, whose music hides under lots of films and tv shows; and we had slow players ahead of us, and as a result, we were moving along slowly too. We had reached our next tee and were waiting for it to clear so we could keep moving. The pair of gents playing behind us caught up with us as we waited. I heard one of the players speak a few words, and I immediately recognized his accent. I turned around to him and said: "Newcastle." 
"Garr, no American knows that accent," he said. I proved that I knew the accent, and that I knew Newcastle, by following up with "The Malmaison." 
Obviously, this fellow was a touring musician, because because the name of that hotel was the kind of stuff musicians tend to know. It turned out I was right—he toured with a little band called AC/DC. His name was Brian Johnson, and he was the lead singer with the group. You might be surprised to find that the Neil Diamond band and AC/DC have a lot in common, but it's true. We joined our twosomes up, and finished the round, carrying on a lively discussion of cities and arenas and hotels and restaurants. 
After finished our undistinguished round of golf, Brian and I made a tentative plan to play golf soon in Vancouver, where his band was headed for a recording residency, and where we were to be performing on our tour in a couple of weeks. 
Sure enough, we got in touch In Vancouver. We made a plan, and a tee time was reserved. But on the Sunday we were to play, it was a predictably rainy BC morning. We doggedly stuck to our plan, though., and went to the course and sat in the pro shop for a while, waiting for the rain to stop. This being Vancouver, of course, it didn't stop. We eventually headed back to our mutual hotels, and Brian kindly asked if I'd like to have dinner with his band that night. Sounded cool. 
By evening, when it was dark and far too late for any golf, the rain finally stopped, so I met Brian and the others from AC/DC on the roof of a nearby eatery. Joe Fortes is a nifty seafood and chop house on Thurlow St., just off of Robson, one of Vancouver's main drag dining streets, and obviously a popular spot. 
It was by now dry, and we were on the roof gathered around a big table. I met the others present from the band, including Angus and Malcolm Young and their brother George, along with one or two others, whose names I'm sorry I don't recall now. It was a jolly time, although interrupted occasionally by fans coming over to the table to ask for an autograph or chat, pausing dinner for frequent moments. 
They were quite patient with all this, until a pair of attractive young women came to the table and said they were big AC/DC fans from Calgary. 
"Calgary?" said Brian, "What are you doing in Vancouver?" 
"We came to see Neil Diamond," was the answer. 
Seeing an opportunity to return to dinner, Brian pointed at me and said, "He's with Neil." This caused the girls to pivot and descend on me for further questioning, while the band returned to their food. 
Dinner was superb, the conversation was spirited and everybody departed as friends. We continued our tour, which did very well; they finished up the album they were recording, which also did very well, thank you. 
We crossed paths briefly with AC/DC on our 2017 tour, but I never met up with Brian Johnson again. Brian, if you come across this, give me a buzz. And you too, Diane Keaton.