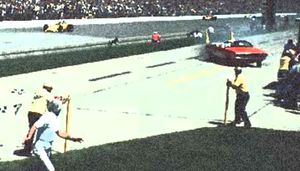 The Indianapolis 500 is
(a) a really big band,
(b) a protest group soon to go on trial, or
(c) almost three dozen autos driving around in a circle for a few hours.
If you answered (c) then you are familiar with what they used to call "the greatest spectacle in racing." These days, my favorite spectacles are any which enable me to read, and the 500 isn't quite what it used to be, either.  
For one thing, all the cars look the same. Fortunately, the drivers don't, since these days, some of them are women. It's hard to tell with all the safety gear they have to wear, but I am pretty sure they are, indeed, women. Brava, bravi. 
Then there was that nasty split in the racing community a few years ago, and the rise of NASCAR. No offense, NASCAR fans, but I don't get it. They seem to race all the time. What's special about that? When I was growing up in Indiana, the 500 was the major event of the year. People's lives were planned around it. NASCAR is like a bus. You miss one, there'll be another one along in a few minutes.
Despite my enthusiasm for the big race, I didn't actually see one until 1949, when I witnessed it on television. "Wait a minute," you doubtless say, "They didn't televise the race in those days." Aah, but they did, that one time only. The winner was Bill Holland, and my family watched at the home of a friend who worked for RCA. WFBM-TV had three cameras in the main stretch to cover the action, but we were excited nonetheless at the sheer black-and-white spectacle of it all. 
Still, I never actually attended a race in person until the 1970, just before we moved from Indianapolis to LA.  
Somehow I had acquired an annual plum gig of playing in a big band for an hour, on the racetrack itself. The leader was a man named George Freije, who was something of a Hoosier legend himself, a drummer whose day gig was as a pharmacist. He used to introduce himself by saying, "Hi, I'm G-g-george--or a r-reasonable fat Syrian." It was a good enough gig that he got the best musicians in town to show up. Even expatriates like drummer Benny Barth, were known to come back just to play Frieje's gig. 
Decades later, during our 2005 tour, I sat in a bar near our New York hotel, comparing George Freije impressions with trumpeter (and ex-Hoosier) Lee Katzman, his son Theo, who's become something of a legend himself, Lee's wife and a couple of our band members Larry the K and Don "The Don" Markese. Everyone who knew George tried to mimic him, because even a bad impression of George Freije could be pretty amusing. But I digress.  
The race was at its peak of popularity in the 1960s. The Indianapolis nightlife calendar was based around it. It sprang to life immediately after the Kentucky Derby—when, I learned from a more sybaritic clubgoer, all the hookers came up to Indy from Louisville and the clubs remained hot until after the race, at which time I assume everyone moved on to the 4th of July celebration in Port Hope, Michigan, or somewhere like that. How would I know? But, while it lasted, the month of May provided work galore for Indianapolis's burgeoning Muzoid community, thankfully including my starting line big band gig.  
I vividly remember my annual arrival at the Indianpolis Motor Speeway The racegoers were lined up for miles around the race track, in the town of Speedway, but we Muzoids were taken down a secret back route by a multi-motorcycle escort. It was a bit like a high-speed pursuit, except in reverse: the perpetrators were chasing the police. And a few of the honored escortees were puffing weed in their cars all the way. l confess that the thought of it still makes my sense of irony tingle.
Our downbeat was at 6 am, the moment the gates opened and the crowd of 4.5 Gazillion spectators began flowing into the stands. It was a curious sight, more than a dozen musicians swinging away on the starting line, playing for an audience which initially consisted of exactly nobody, but grew larger and larger as the hour went along.  
At seven, we knocked off. George handed each of us a small wad of cash for our efforts, and after that we were free to stay and watch the race from anywhere within the immediate area, which included the entire starting area of the track.  
I enjoyed milling around and tried to look like someone who knew what he was doing and why he was there, which veteran observers will recognize immediately as a bit of a stretch. Nonetheless, I heard second-hand from a friend in Japan that I was actually observed pushing a car out to the starting line one year on NHK, so my ruse apparently worked.
As the start of the race neared, I would find a place to hover. In those days, there was a wagon stationed next to the track from which photographers were allowed to cluster to get their first-lap photos, and I figured the view should be optimal from there and planted myself, holding easily the cheapest camera of anyone present.
A month after the race in 1970, we moved to Los Angeles, requiring me to give up an assortment of various Muzoid jobs: playing in a 7-piece band for a daily TV show, leading the house band in a night club, a semi-thriving jingle business...but I eventually found work in LA and didn't look back.
Until the following May, that is, when race time rolled around. The 1971 500 was to first to be televised on the same day, albeit on a tape-delayed basis, since the one I'd seen in 1949. I felt pretty nostalgic for my Hoosier roots and sorry about having to miss out on one of my favorite gigs of the year. 
Even though Tivo had not yet been invented, I did the Tivo mental workout that day, making sure that I didn't receive any prior information about the race before the taped telecast. So, with a delicious sparkling beverage handy and some sinful snacks at the ready, I settled in to watch the beginning of the race. 
If you're familiar with the 500, you know that the lap before the race officially begins is called the pace lap, and it is led by a consumer automobile designated as the pace car—an honor awarded, after what must be munificent negotiation, to a local automobile dealer—who then could paint up dozens of replicas and sell them on the lot to race fetishists. 
An Indianapolis Dodge dealer had achieved the honor of driving the pace car in 1971, but as he completed his lap and prepared to veer off out of the way of the now-unfettered racers, somehow something went very wrong, Although the pace car looked lovely, he somehow managed to lose control of it and slam it into the photographers stand, injuring a number of people, some of them rather seriously.
As I watched, I realized that he had crashed that handsome pace car into what appeared to be the exact spot where I had crouched a year earlier to watch the start of the race. 
Suddenly it occurred to me that perhaps departing from Indianapolis had been a very good idea, after all. Â If I had been there this year, I could have...well, suffice it to say that I wasn't there. A year later, the race instituted the tradition of having Jim Nabors sing "Back Home Again in Indiana," which he continued doing until 2014. Neil and I did a version of that song during a show in Indianapolis during that time, and there was some talk from some fans about Neil taking over for Jim Nabors, but that was not going to happen, let me assure you. 
Many years have passed since then, and George Freije is, sad to say, no longer with us. Nor is Lee Katzman, nor is Jim Nabors. But I will be loyally watching the 105th annual Indy 500 mile race this Sunday, May 30th, once again from the comfort of my living room.