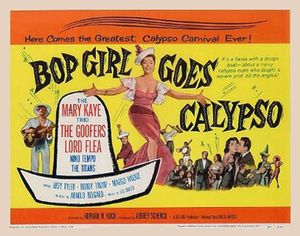 Since today is Labor Day, I note that some here have shared stories about their first job. So this is the story of my first job in Los Angeles. 
I had been doing what I could to meet musicians, sitting in at jam sessions at parties, subbing for double-booked piano players, and making phone calls to every artist who'd ever appeared at the Embers in Indianapolis. (The only such artist who responded was the late Stanley Myron Handelman, who invited us over and hired me to play at the recording session for his album "Spiro Agnew is a Riot."  But I, as usual, digress.)
But then I met Mary Keye, a legendary singer-guitarist. She was working at a small club in Sherman Oaks called the Ruddy Duck, and she needed an organist to play Hammond B-3 with her and her drummer named Joanie, to be the latest edition of the Mary Kaye Trio, an act which was huge in the earliest days of Las Vegas. 
"Can you play the bass part on the foot pedals?" Mary asked. "Sure," I lied. So I was hired. But there was one problem: Local 47, the Musicians Union in LA, did not allow new members to take steady gigs until they had been in town for six months (I invite correction on the correct data here), and so I couldn't take the gig. 
"That's no problem," said Mary Kaye (whose father was legendary Hawaiian star known as Johnny Ukelele), "Come on, let's go down to the union." 
So I went with Mary to Local 47 ib Vine Street, where she introduced me to the powerful union secretary Max Herman, who was obviously her old friend. 
He asked me the particulars of my career, and how long I'd been in LA, which was a month or two. "Well, that's long enough," said Max Herman. and I was issued a full-member status, and the following Monday began playing organ (with the bass notes coming from my left hand) at the Ruddy Duck at Fulton and Ventura, just walking distance from our first house, and our current one, too. That was fortunate back then, since we only had one car and my wife had Wednesday rehearsals with a choral group with which she had already picked up work.
In a 2003 interview for Vintage Guitar magazine, Mary Kaye (whose actual name was Malia Ka'aihue) claimed to be descended from Hawaiian Queen Liliuokalani, through her father Johnny Kaʻaihue (Johnny Ukulele) whom she claimed was "pure Hawaiian" and stated, "he was the son of Prince Kuhio, Queen Liliuokalani's cousin."  I don't know all the details, but I believed her.
The Mary Kaye Trio is credited with founding the Las Vegas "lounge" phenomenon at the Last Frontier in 1953, an all-night party atmosphere where stars and common folk rubbed elbows in a freewheeling environment. Mary's career had calmed down by 1970. The Ruddy Duck was less freewheeling and not all-night, but there was still some occasional elbow-rubbing.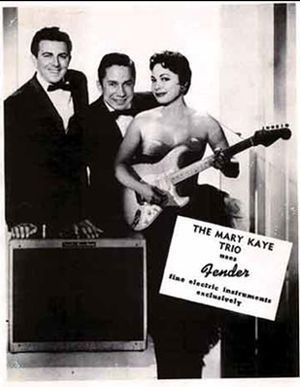 Mary was a good guitarist—in fact, Fender produced a Mary Kaye model Stratocaster for her—and had a lot of friends in the business. Performers came to the club, and sometimes would sit in for a tune of two. I remember singer Herb Jeffries doing Flamingo with us, and guitarist Mundell Lowe sat in now and then. 
Mary Kaye died in 2007. Her son Jay Kaye was also a musician. In 1968, at the age of 15, he put out his first LP, Suddenly One Summer, which later became a cult psychedelic album. Wish I'd had a chance to meet him. 
Thanks, Mary, and thanks Max Herman. I've been a union guy since I joined Local 3 in Indianapolis as a teen-ager, and I was happy to be one then, and I still am. A union member, not a teen-ager.