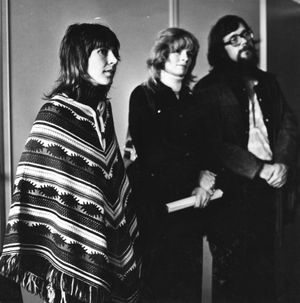 The photo at left was taken at someone's office somewhere in Amsterdam, sometime back in the last century. But what I do know is that it's Helen Reddy,, Sarah and myself. looking out the window at something.
There's an app on my iPhone called Citizen. I'm not sure how it got there, but I must have signed up for it in a moment of delirium. Every so often it makes an ominous sound, announcing something it thinks I should be aware of—shots fired somewhere nearby, someone spotted with a weapon, an auto accident with injuries, usually on Magnolia Boulevard, or some other potential intrusion on our calm Valley life. For a while, we had a run of people wielding machetes. The other day, there was a woman brandishing a knife in someone's pool. 
One Saturday morning, there was someone at Popeye's who was "menacing people with a guitar." ("I've got a raised 9th chord here, and I'm ready to use it!"). 
Recently, Citizen has developed a strange new habit: it's been reporting suspicious activity that occurs near Jeff Wald: "iPhone stolen ½ mile from Jeff Wald's house, shots fired 1 mile from Jeff Wald's house," etc. 
Full disclosure: I used to work for Jeff Wald 40-some years ago, but we haven't really communicated, aside from than an occasional phone call, in a very long time. As the Wald incidents continued to pile up on my Citizen app, so did my curiosity. A few days ago, after another report of suspicious activity near Jeff Wald's house, I picked up the phone and called Jeff Wald, who answered by saying, "What is with all this Citizen stuff?" Apparently he'd been getting those alerts too, except they were described by their proximity to our house. Jeff was just as baffled by them as I was. 
Perhaps Citizen was just trying to get Jeff and I to touch base, because that's what happened. We certainly had a topic to discuss: the Helen Reddy biopic was just hitting the streaming services. and we were two people who knew more about the subject than most. 
In the very early 1970s I was newly arrived in LA and was happy to be offered a job as pianist with Helen, who was also new in town and seeking to break her first single, "I Don't Know How to Love Him." 
I went to Helen and Jeff's house, a medium-sized bungalow on Woodrow Wilson Drive, just off of Mulholland, and ran through some of her material. After a while, Helen made me a peanut butter sandwich. The material was good, the sandwich was great. 
Side note: a couple of years ago I was asked to contribute a paragraph for a plaque honoring Helen at the London Palladium, where I recorded a live album with her in 1998. I wrote that I would always be grateful to Helen for introducing me to the joys of Laura Scudder crunchy peanut butter, which has been served here at Hensley Farms ever since that first rehearsal. 
So I took the gig, which usually consisted of hopping a plane from LAX to in North Carolina or Utah or somewhere similar, where the three of us would rent a car and drive to the gig. After some months of this, I put together a band, and persuaded some of my friends to go out with us: drummer Mike Berkowitz, bassist Jack Conrad, and guitarist Mike Warren at first. Sometimes we had a sax player. First it was Ronnie Starr, later I remember the late Richie Kamuka on the gig. Larry Brown took over on drums when Mike had other work. In New York, we used Bill Takas, whom I remembered from Indiana, on bass. We weren't exactly a band, but a pretty good collection of players. 
Jeff was as portrayed in the film: volatile would be a good word. But he was remarkably transparent about the business side of what he was doing, which was trying to make Helen a big recording artist. I remember my favorite Jeff quote: "I can get a record played on every radio station, I can get her picture in every magazine, I can get the best reviews—but sooner or later someone, somewhere, has to actually buy a copy." 
We were doing "I Am Woman" from the very beginning. I produced a couple of recorded versions of it, as well as another song which I thought had more commercial potential, "Don't You Mess With a Woman." Shows how much I know about picking a hit. We recorded a lot of tracks in Dallas, because Jeff wanted Helen to do a gig at the Fairmont Hotel there, and he couldn't afford to pay the band, so he covered it via Capitol's recording budget. I think he blamed me for the record being so expensive, but it didn't bother me, since I didn't really consider myself a producer. Producers, the ugly secret is, have to deal with record companies, and no one wants to do that. 
Jeff, I'll be the first to say, was a great manager for Helen—except for the night he took a gig as a replacement for a band that had to cancel due to weather, and we ended up in Las Cruces, New Mexico, as the opening act for Ike and Tina Turner. When we walked on stage and I gazed at the faces of the audience, it was a lot like the "Springtime for Hitler" scene in "The Producers." 
I still have someplace my printed invitation to the after-party for Ike and the Family Jewels. I couldn't attend, because we got the hell out of town at intermission. I wish I had been there to suggest that Helen and Tina do a duet of "No Way to Treat a Lady," but this was before Helen had recorded that one, and it would have surely provoked Ike to kick someone's ass. 
When I talked to Jeff the other night, I reminded him of my earlier description of the moment when I knew Helen would be successful was when he was able to persuade her to shave under her arms, so she could close the deal for her NBC TV show. He told me, "I'm going to use that in my book," so when you see Jeff's memoir, remember you read it here first. 
One day, I remember being called to a meeting at Helen and Jeff's new house, a much larger one on Outpost Drive, and Helen sent me upstairs to speak to Jeff in the bedroom. I walked in to see Jeff Wald sitting in the middle of a king-size bed, totally naked and screaming into a telephone. When he saw me walk in, he put his hand over the receiver, changed his face momentarily, and said: "It's HELL running Capitol Records from your bed." 
And he was doing that. The entire promotion department lived in fear of Jeff, because he could get anyone fired if he felt they weren't doing enough to sell Helen. He often told me of his battles with the then-president of Capitol, a fellow named Al Coury. 
Many years later, Al Coury married a friend of ours, and we often saw them socially. The reward for me was getting to hear the same stories Jeff had told me, except from Al's perspective. And they worked equally well each way. 
When Helen became the star of the early version of the TV series "Midnight Special," I was the bandleader, and when Wolfman Jack became the host, I stayed on for a while. 
Eventually, Jeff and I had had one of those "You can't fire me, I quit!" moments, and I moved on. My studio musician career had picked up speed by then, and "I Am Woman" had become an anthem by then, so everybody ended up reasonably happy. 
When Jeff and I had our lengthy memoir chat after viewing the screening of "I Am Woman," we spoke of  their divorce and Helen's more recent health problems, he said something to me that qualified as an ultimate mixture of funny and sad: "The great thing is that she doesn't remember that she hated me."