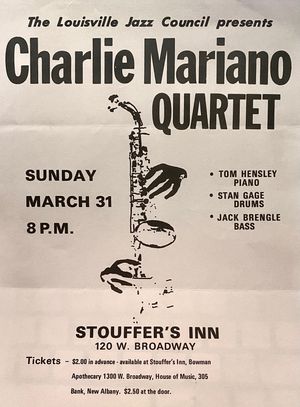 When I lived in Indiana, way back in the last century, my friend (and NEA Jazz Master) Jamey Aebersold would occasionally invite me down to Louisville to accompany some visiting jazz dignitaries. Pictured here is a flyer for such an evening with the fine saxophonist Charlie Mariano. I looked for one from the gig with Kenny Dorham and Lee Konitz, but it seems to be hiding in my archives at the moment. These are names I like to pull out when I want to inflate my jazz credentials more than they deserve. This was not always the case 
When we moved to LA in 1970, I was cautioned not to mention my jazz background, lest it hinder my efforts at getting studio work. One elder statesman told me "A good review from Leonard Feather is the kiss of death in this town," and I took that advice to heart.
For a while, I did a lot of funky rockin' piano parts and big ballads, and almost nothing that could be interpreted as jazz. In fact, I did an album in 1981 with Jim Messina at his studio in Santa Barbara, and when the tunes took a turn toward the jazzy, I recommended to Jim that he bring in my friend Victor Feldman to cover the piano part on those tunes. He did as I suggested and it turned out great. RIP Victor. 
After that, I no longer worried about hiding my jazz background. I noticed that there were a lot of jazz players on the sessions I did with Phil Spector, and I loved that. But jazz had taken a few turns over the years that made me uncomfortable, so even though my 60s album, "The Masters of Deceit," was considered by some to be "jazz/rock fusion," I steered clear of that kind of thing, until a faulty recording session forced me to reevaluate. 
It was, in retrospect, my worst session experience in LA. Some people might be surprised to know that the artist was one that most jazz players would be thrilled to play with: a band called Steely Dan.
How it came about, why I ended up in the room, is unimportant; let's just say it was a big mistake. I knew they hated everything I played, and I hated everything I was being asked to play. I'm sure that none of our tracks ended up on anything they ever released, or at least I hope so. But there were mutual friends involved, and we were all nice about it, but I just couldn't wait to get out of Village Recorders that night, knowing that I would never return. 
So, given all of that, why did I record an album called "Jazz Time: The Music of Neil Diamond"? The answer is that the jazz on that album is based on the styles that were prevalent when I came to love jazz, applied to the songs I loved playing for 40 years. That's why "Holly Holy" sounds like Ahmad Jamal, and why "Kentucky Woman" sounds like a cut from "Birth of the Cool."
You gotta play what you love. Otherwise, you're not playing.