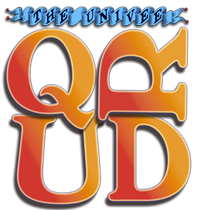 I really enjoy seeing comments about my little blog entries. Somebody mentioned the other day that they didn't know I was a writer. While some might argue, I would point out that I've been a writer for a long time. 
At my high school, in Bloomington, Indiana, the student newspaper was called The Univee Quad. I occasionally wrote a record review, but mainly devoted my efforts to what would later be called an underground newspaper, which I called the Univee Qrud (logo, left). It was mimeographed and contained lots of parodies of what the Quad took seriously. I got a few issues out and despite this, I eventually graduated. 
In college, at Indiana University, there was a humor magazine called the Crimson Bull. Just before I started at IU, the Crimson Bull editor, a fellow named Clint Major. was fired for including too much dirty content. Mr. Major then started an underground humor magazine called The Renegade. I became the editor of, and published a few issues of the Renegade, and despite this, I eventually graduated. 
Footnote: When I went to a high school class reunion in the 1980s, I put out a 30-year anniversary issue of the Qrud, which drew acclaim from just a few people (my graduating class was around 90 people strong). It included a revised version of the school fight song (University School closed in 1977, so the new song was called "Alma Mater Mortis." As I write this, I'm thinking I should make a video for Alma Mater Mortis, so don't be surprised it it happens. 
In California, I began writing some pieces for the Los Angeles Times, back in its glory years, when real writers were on staff there. I contributed to a jokey section called Laugh Lines, and the editor of Laugh Lines was a guy name Charlie Waters, and it was my first experience with having my writing edited. Every time Charlie suggested a change, I noticed it made the final product better. 
Of course, Charlie left the Times when their infernal cost-cutting schemes took hold, and he turned up in Fresno, as the editor of the Bee, my favorite newspaper named after an insect. Charlie and I played golf during my visit on out 2005 tour, and he and his boss came to our show. More about that below. 
My longest-lasting publishing folly began in 1986. It was an on-tour newsletter called The Arch Angel Post-Bugle Intelligencer, known to its friends as the PBI. It came out on every showday, at first hot off a copy machine, later as an emailed PDF file, until we knocked off at the end of 2017.  The PBI's swan song was a thick issue with many pages of contributions from those who had passed Through Diamondville over the years. 
My favorite item from the final issue was a contribution from the pianist in Neil's earliest band, whose prior gig had been with Country Joe and the Fish. I asked him was it was like to go from Country Joe to City Neil, and he said the first difference he noticed was that the women in Neil's audiences were wearing bras. 
The archives from the PBI are a rich source of tour history which I dig into often, especially when compiling my blog. I dug into it just now, and checked up on Charlie Waters, who passed away a few years ago. I found this item, from Las Vegas, where Charlie lived out his last years. 
I am writing to you to see if your fine publication can help me. Some years ago -- probably 2005 or 2006 -- my former boss and I had the pleasure of enjoying an afternoon of golf and lunch in Fresno with two musicians in Neil Diamond's band. I remember that one guy's name was King and I think the other's was Tom. We later took our wives to the concert and afterwards met them and Catgut girl Catherine back stage. All in all, it was a wonderful day. 
I see in my Las Vegas newspaper that Neil Diamond is playing the MGM Grand in Las Vegas this Saturday evening. And since your outstanding journal has received international acclaim for its insightful, trenchant, behind-the-scenes coverage of Neil Diamond tours, I am hoping you can find the answer to a question that has nagged both me and my ex-boss since we played golf that day with King and Tom. 
Our question is this: Was that day in Fresno the first time Tom had ever played golf ? 
I look forward to your answer in the next issue of PBI. I have $50 riding on the answer. 
Charlie Waters 
I replied:
I get that question every time I play. For the last fifteen years I've been asked that question. The answer, then and now, is: "Not necessarily. You probably got that idea from the fact that when we played, I spent more time in the bunker than Eva Braun." 
Okay, that's enough for today. Back to my quarantine party.