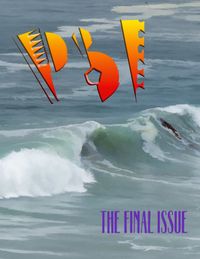 I succumbed to the hype and watch the final Modern Family Wednesday night. I didn't ever saw the show during its run, but found the finale entertaining. The post-finale documentary really drew me in, since we just finished a rather long run of our own, and I understand the emotions faced by the cast. Still, I found myself thinking "They're so worked up about saying goodbye to their gig and each other after only 11 years?" Our show hung it up in 2018 after FORTY years. Yes, there were a few changes over the decades, but you get to know your co-workers pretty well in all that time. 
We didn't have a farewell episode to share with our fans and bring big ratings. That doesn't work for music concerts, although we had been advertising a 50th anniversary tour. We didn't know our October 19 show in London was our final show until months after it happened, so there was no opportunity to celebrate/grieve/ponder or anything else. The thing I DID eventually do was to put out a final issue of the PBI. In case you didn't know, I had been publishing my showday newsletter since 1986, and I wasn't going to let it go away without making a fuss. It took a while, but on the third of June of 2018, PBI Volume 68, number 1 went out to everybody on the distribution email list. 
Like the ABC special last night, it was filled with memories, and turned up some treats for long-time readers. Here's one I enjoyed: 
Mark Capner was the first piano player to inhabit the chair, before me and long before I gave Diamondville its name. I tracked Mark down, and he was willing to share his account about his earliest days with the band: 
In the fall of '71 I got a call from Country Joe and the Fish's old movie agent, who had moved on to the agency booking Neil. I'd played keyboards with the 
Fish for the last year-and-a-half of their existence, including at Woodstock. When I got the call, I wasn't totally clear who Neil was, until I realized he was the Cherry Cherry guy. 
My contact told me to figure out the horn and string parts for "Sweet Caroline" and another song on the organ for the audition. The guy who auditioned before me was a jazz virtuoso, who was all over the keyboard. I went in, played simple, and got the gig. We went out with Carol Hunter on guitar, Randy Sterling on bass, me on piano and organ (B3 and Steinway or Baldwin, usually) and Eddie Rubin on drums. I heard from the others that the studio cats who played on all the records (Hal Blaine, Carol Kaye, etc) wouldn't tour, so there we were. 
The drummer was a tired old jazz player, who had supposedly played with Billie Holiday at some point. He had no pop or rock sensibility. When Dennis St, John came on board I was ecstatic. Every time he hit a drum it was a sanctified heartbeat! I had a gas playing with Neil. The audience was so very different for that of the Fish. When CJ & The Fish played, every freak and longhair within 100 miles would come to see us. With Neil, the audience was much straighter, aged 6 to 60, and all the women were wearing bras. 
As soon as i got the gig, I realized that a song I had disliked the summer before, "Cracklin' Rosie", was Neil's. The second day of rehearsal, Neil had us work it up. He started in C, then said move it up a half step. Aargh, C#! It felt like ironic justice for my previously stabbing the button on the radio of my Chevy whenever the song had come on. The last song we worked up while our unit was on board was "I Am, I Said". 
We toured around the country playing the hits. It was a strange time...1971-1972. One day we flew into LA from another city. We had the day free before driving up to Bakersfield to play a gig. It was surreal to try and hitchhike down Sunset to see a woman I knew and not get a ride for 20 minutes (this was the post-Manson era), only to be riding in a limo two hours later to the gig. When we played in Alabama, the audience gasped when Randy and I took the stage. We both had huge hair. The next day, at a barbecue, everyone was sweet as could be. We might have been hippies, but we were Neil's hippies! 
It was my understanding that Dennis and Richard hooked Neil up with a unit made up of studio quality musicians who were also willing to tour, at which point, Carol, Randy and I were let go. Were you the one who gave me a chart for "He Ain't Heavy"? It was fun playing it at Carnegie Hall. 
There were lots of other stories, and I'll share more of them in the Diamondville Chronicles, because where else am I going to put them?