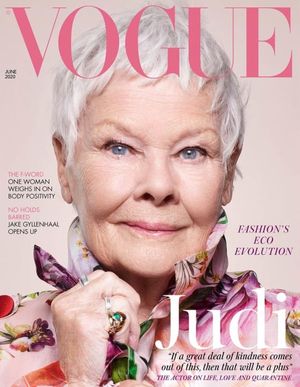 I love it when news events give me a reason to write a blog post, especially when those news events aren't something related to death and/or destruction. So today is a good day, since the news item for today reveals to us that Dame Judi Dench is going to be the oldest person ever to grace the cover of British Vogue Magazine. She is 85, which is older even than any of our band members, and, as it turns out, she's probably spritelier too. Here's the story about that: 
Back in 2008, we did a TV show for ITV in London called "An Audience With…" The show has a featured performer and playing to an audience made up of celebrities, most of them British and less familiar to Americans. Some of them took a while for me to realize, "Oh yeah, that's Johnny Vegas," or "Wow—Germaine Greer," or "Sir Tim Rice?" 
The audience member that I recognized immediately was Dame Judi Dench. She's pretty easy to spot, and was seated up front, so it wasn't difficult." 
She was clearly enjoying the show, which went along nicely, until we did "Cherry Cherry," always an audience pleaser. As soon as we began playing it, the audience was on their feet dancing, especially Dame Judi Dench, who was displaying some impressive moves and snappy steps that made everyone watch her admiringly. 
But at the same time, there was some kind of technical problem with the electrical wiring of some stage lighting, which didn't look right on the screen. 
Here's a little-known fact about the medium: people who make television don't give a damn how things sound, only about how things look. You can do an entire tune with one guitar a half-step away from the rest of the band, or even turned off, due to a faulty capo setting or failed batter or something, and no television producer/director will ever stop and say, "We should do that again and make sure it's right." No, BUT but if there happens to be something wrong with the lighting or anything else in the picture, they will work on it repeatedly until it's just as it's intended to be, even if it takes all day and costs every penny in the budget.. 
As a result of the lighting issue, we had to do "Cherry Cherry" again…and again, and again and again. I lost count of how many times we did that wonderful song, but I'll estimate that we did the song seven times, and while the band was growing weary, Dame Judi was out of her chair and going full-speed on every take with no sign of letup. The band agreed that we had never seen such crazed audience choreography. We probably should have offered to take her on tour with us. 
Interestingly (to me), the "An Audience With…" show first launched back in 1980, and its first host was Dame Edna Everage, with whom I have a bit of history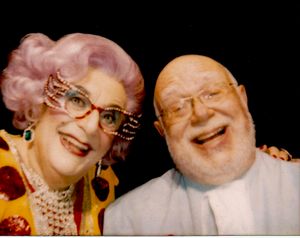 myself. My episode with her took place on stage at the Ahmanson Theatre in the Los Angeles Music Center. Dame Edna was doing one of her multiple farewell tours, and that show included a bit where she performed a movie scene with cast members selected from her audience, on that night including me. I played Dame Edna's husband. Further, deponent sayeth naught. But I digress, so back to the other Dame. 
Dame Judi appears on the cover of British Vogue's June issue, and editor-in-chief Edward Enninful hailed her as "one of the nation's most beloved citizens" in an Instagram post Monday. "I can't tell you how pleased I am to see Dame Judi Dench, the unassailable queen of stage and screen, starring on her first Vogue cover at the age of 85," he wrote. 
Although she's best known for her dancing performance with our band, Dench is an iconic actor who is best known for her roles in "Shakespeare In Love" and the James Bond movie "Skyfall."